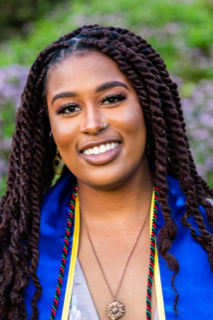 Azisa Michele Dixon Todd - M.P.H., Public Health - College of Health & Social Sciences
Azisa (Zi) Michele Dixon Todd was born and raised in Oakland and attributes many of her academic and community organizing experiences to the Oakland public education system.
Azisa went on to study at UCLA where they received a bachelor's degree in Gender Studies, and graduated with Departmental Honors. They served as director of BlaQue, UCLA's Black LGBTQ+ organization, and developed and facilitated mandated anti-racism/Blackness workshops at UCLA.
One of the top students in San Francisco State's Master of Public Health program, Zi has supported redesign of a cross-college minor in Feminist Health Studies. They also serve as a San Mateo County education and training coordinator, leading LGBTQ+ awareness trainings for county health systems and local organizations.
Azisa's Public Health interests are in LGBTQ+ health and wellness, the intersectionality of Black and LGBTQ+ experiences, and community health education and training. With more than 5 years of training experience in curriculum development and training facilitation, Zi intends to advance their skills in community health, obtain a DrPH, and teach at the college level.