SF State Scholars (Blended Bachelor's +Master's) Programs
The San Francisco State Scholars program provides undergraduate students with an accelerated pathway to a graduate degree.  Students in this program pursue a bachelor's and master's degree simultaneously. This program allows students to earn graduate credit while in their junior and/or senior year, reducing the number of semesters required for completion of a master's degree. The San Francisco State University Scholars program offers students additional career prospects, intellectual growth and the opportunity to deepen skills and research competencies. SF State Scholars receive a unique form of mentorship that is not often expected at a large urban university.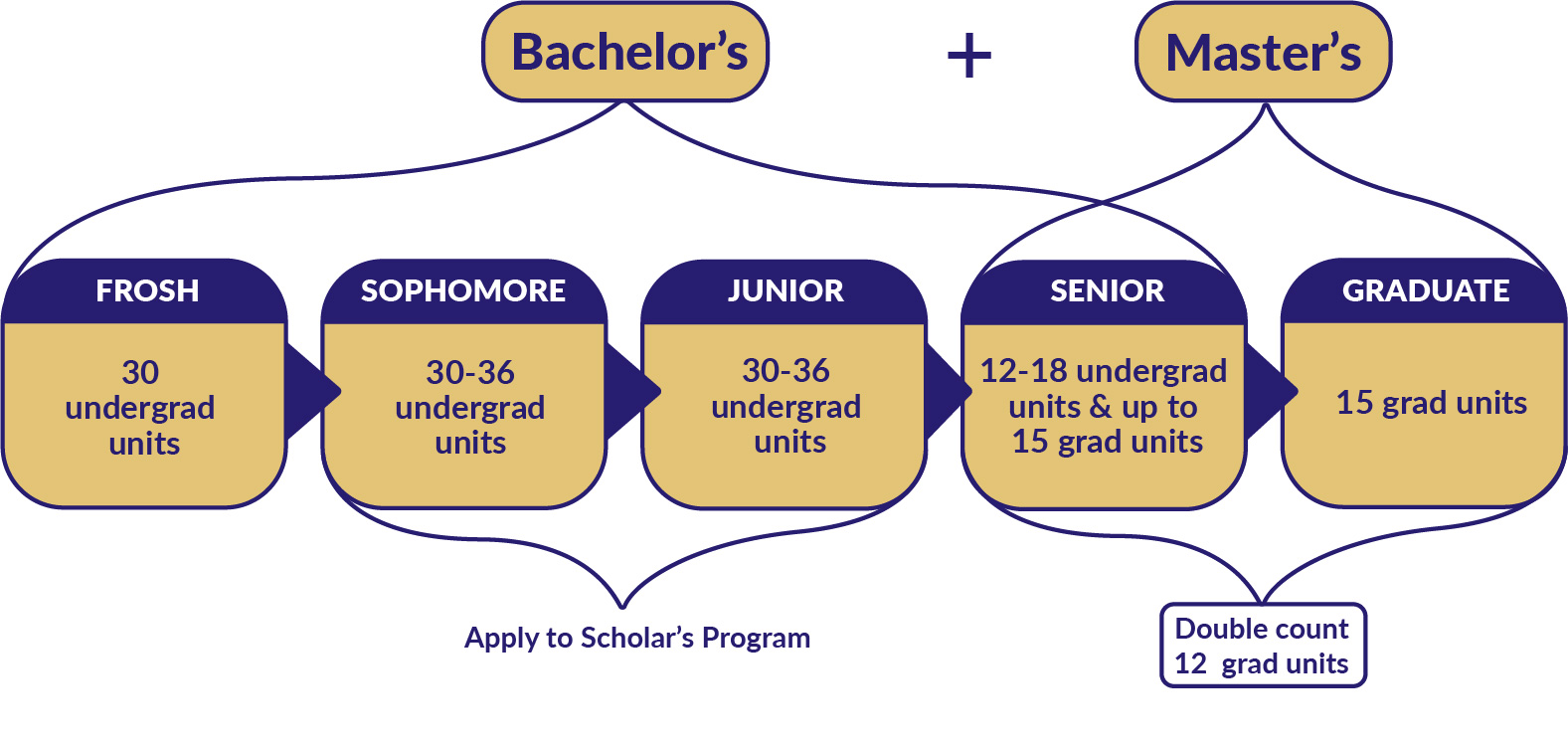 Program Benefits Include:
Outstanding faculty mentorship
Simplified application process
Waived graduate school application fee
Waived GRE/GMAT requirements
Double-count up to 12 graduate units for both degrees
Save time
Reduce student debt
Eligibility:
Obtain Tenured/Tenure Track faculty advisor sponsorship in the degree program
Apply before completion of 90-105 semester units and before enrolling in a senior capstone course 
Hold a minimum 3.0 cumulative GPA or 3.0 GPA in the last 60 semester units.
Declare a major in related SF State Scholar program
Meet admission requirements for intended graduate program
For more information or if you have any questions about our SF State Scholars program, please contact the Associate Director of Enrollment & Curricular Engagement: Khaled Ezzat at khaled@sfsu.edu
Application Instructions:
Consult with an SF Scholars Coordinator to determine if you are eligible for the SF State Scholars Program, and if the program is the best fit for you.
Complete the SF State Scholars Application and submit it to your SF Scholars Coordinator for approval. 
No Application fee is required.
No GRE/GMAT test is required.
Submitting Documents through the DocuSign Portal

Your name and SFSU email address
The name and SFSU email address of your Faculty Sponsor/Advisor
The name and SFSU email address of your SF Scholars Program Coordinator
Click "Begin Signing"
Fill out the top portion of the form
Click "FINISH" at the top of the page to send the form for Review.
All approving parties will receive an email requesting review & approval of the SF State Scholars Admission form. It is important that you submit accurate information for prompt review/approval
View: SF State Scholars Application
 
Transition to Graduate Level for Current Undergraduate SF State Scholars:
In the last semester of completion of undergraduate degree requirements (e.g., degree applicable 120 units, GE, GWAR, SF Studies), SF State Scholars students will apply for graduation for their BA/BS in Gateway Student Center. Registrar's office deadlines https://registrar.sfsu.edu/graduation.
The application fee will be automatically applied to student financial accounts once they apply for graduation.
The Registrar's office uses the Degree Progress Report (DPR) to determine if the student meets the requirements for graduation.
The DPR will not reflect which courses were taken in undergraduate standing that will be used towards the student's graduate program. SF Scholars program coordinators will work with students to verify which classes they plan to use for the master's degree.
After students apply for graduation, each SF Scholars program coordinator will send a list of students and classes they wish to use towards their graduate degree should be sent to Khaled Ezzat at khaled@sfsu.edu by March 15th for Spring and October 15th for Fall.
San Francisco State Scholars Eligible Programs