The San Francisco State Scholars program provides undergraduate students with an accelerated pathway to a graduate degree.  Students in this program pursue a bachelor's and master's degree simultaneously. This program allows students to earn graduate credit while in their junior and/or senior year, reducing the number of semesters required for completion of a master's degree. The San Francisco State University Scholars program offers students additional career prospects, intellectual growth and the opportunity to deepen skills and research competencies. In addition, Scholars students will receive a unique form of mentorship that is not often expected at a large urban university.
For more information or if you have any questions about SF Scholars Accelerated Degree, please contact the Special Academic Programs Coordinator: Khaled Ezzat at khaled@sfsu.edu
Eligibility:
Undergraduate students interested in an accelerated pathway to a graduate degree through the San Francisco State Scholars Program must be sponsored by a Tenured/Tenure Track faculty advisor in the degree program.
Students must apply to the program before they complete 90-105 semester units (consult with your program) and before enrolling in a senior capstone course in their major.
Students must have a minimum 3.0 cumulative GPA or 3.0 GPA in the last 60 semester units.
Students must not be declared in another major or second baccalaureate.
Students must meet admission requirements for their intended graduate program. For more information about your program admission requirements, please consult with your department (additional supplemental materials might be required).
Students must submit a San Francisco State Scholars Program application that includes a Planned Course of Study to the Division of Graduate Studies.
Download/View: SF State Scholars Application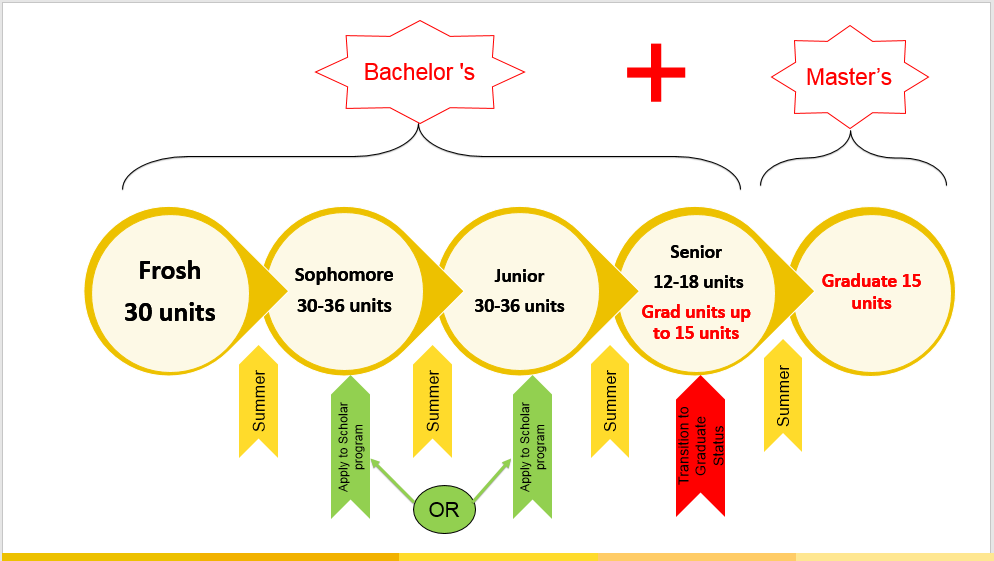 San Francisco State Scholars Eligible Programs
Accounting
The Accounting SF State Scholars program is designed to enable students to earn the units required by the California Board of Accountancy.  In five years, students will cover the material on the Certified Public Accountancy exam, meet the 150-hour requirement, and earn both a Bachelor's and a Master's degree.
                       SF Scholars Coordinator - Jung Hoon Kim
Ethnic Studies
The Ethnic Studies SF State Scholar program is a great opportunity for motivated students majoring in Africana Studies, Asian American Studies, or Latina/Latino Studies. The Master of Arts in Ethnic Studies is designed to be a versatile degree that provides a solid foundation for careers teaching at community colleges, working in community and multicultural resource development, administrative work in the non-profit sector, employment in student resource centers, practical application in the business fields, and much more.
SF Scholars Coordinator - Katynka Martinez
International Relations
The International Relations SF State Scholars program provides an accelerated route for students to enter a competitive workforce in government, business, and non-profits or to pursue advanced graduate training leading to a Ph.D in the International Relations field. The International Relations SF State Scholars program enables talented students to spread the challenge of an M.A. over their undergraduate and graduate careers so that they use their time and money wisely toward an education that will enhance their career prospects.
SF Scholars Coordinator - Juanita Darling
Kinesiology
The SF State Kinesiology Scholar Program is designed for exceptional undergraduate students in Kinesiology that would like to complete both their undergraduate and Master's degrees in a shortened time frame (5-5 1/2 years). The program provides an excellent opportunity for students to further enhance their knowledge base and academic skills in the field of Kinesiology. It also allows students to develop more competitive applications to doctoral programs (e.g. Physical Therapy, Medicine, Kinesiology) and improve their employment opportunities. Students receive specialized advising from a faculty mentor as well as extended research experience in the student's area of interest.
                   SF Scholars Coordinator - Kate Hamel
Philosophy
SF State's graduate program in Philosophy ranked among the top nine terminal M.A. programs in the United States. It is a leader in placing students in doctoral programs and is distinguished among graduate programs in offering training and supervision in teaching. Philosophy SF State Scholars students will have the opportunity to move on more quickly, and highly competitively, to begin their advanced degrees in philosophy, religious studies, law, and public policy, while saving money that they will need to cover the costs of their professional degrees.
        SF Scholars Coordinator - Alice Sowaal
For more information or if you have any questions about Interdisciplinary Studies, please contact the Special Academic Programs Coordinator: Khaled Ezzat at khaled@sfsu.edu
Interdisciplinary Studies is an innovative program offered as a MA/MS for students whose interests and needs do not fit within traditional master's degree programs. The Interdisciplinary Studies program offers you the chance to peruse your interests and passions while gaining necessary skill sets, combining both together in unexpected ways but never at the expense of your love for writing poetry, reading history or exploring different ethnic cultures. 
Students will need to develop a 30–36 unit plan of study that draws on courses from multiple disciplines with the intent to integrate the concepts, perspectives of those disciplines into a focused, central theme which may lead to new ways of looking at a subject, issues or problem relevant to a student's unique interests.
Eligibility for the Program
Students must have a minimum 3.25 grade point average in the baccalaureate degree or in the last 60 semester units taken.
Students must demonstrate English competency and proficiency before beginning the program which can be met by earning a score of 4.5 or better on the Graduate Record Exam (GRE) or GMAT analytical writing section or by completing a writing intensive course. This writing course can be used to meet this requirement upon approval from the Primary Major Advisor and the Division of Graduate Studies. Students who have earned a masters or doctoral degree will be exempted from the pre-admission writing requirement.
Students may not use courses from fields of study, such as, nursing, physical therapy or counseling which lead to licensure or certification unless a single course is specifically authorized by the department chair.
For more information or if you have any questions about Double Master's Degrees, please schedule an appointment with Graduate Advising
Double master's degree programs are structured for graduate students who wish to pursue two master's degrees at once. Double master's degrees require a lot of coordination and planning and may not be ideal for every student. If you are up for the challenge, earning two degrees can help you enhance your knowledge and open up new career opportunities.
To peruse double master's degrees in SF State:
Student must be currently active in a master's program and has a good standing in their current degree program.
Student must have completed at least 15 units of their current master's degree program,
Student must formally apply and be admitted to the new master's degree program and
Student may not use the same coursework nor complete the same culminating experience for both programs. For concurrent degrees with a common core, faculty of the programs must determine alternative core courses for the second degree.