San Francisco State University offers more than 90 master's programs, an Ed.D. program, 14 credential programs, over 20 post-baccalaureate certificates, and two joint doctoral programs with the University of California.  Explore our graduate programs, application deadlines, and program specific admission requirements before you finalize your Cal State Apply application for graduate study.
Cal State Apply
Cal State Apply  is the Centralized Application System for all 23 universities in the California State University (CSU) system. You only need to submit one Cal State Apply application even if you are applying to multiple CSU universities; however, each campus you apply to has a $70 fee.
Create Your Cal State Apply Account
Prepare Your Application
Applications for Graduate Study are reviewed at the University level for general minimum admission requirements, and at the Department or Program level for program specific admission criteria beyond the minimum University requirements.
Graduate admissions review is an inclusive and comprehensive approach to evaluating applicants for admission to graduate study, considering all elements of an application.  We advise you to take a deliberate approach in preparing personal statements, letters of recommendation, supplemental materials such as writing samples or resumes, and standardized test scores, all of which are reviewed alongside academic performance and GPA.  An important factor in the review is the alignment of your goals and research interests with the program's offerings and faculty expertise.
It is important to review your intended graduate program admission criteria as you prepare your application materials to upload to Cal State Apply.
Seek Advising
Graduate Coordinator
Reach out to the Graduate Coordinator for your intended program of study with questions.  A graduate coordinator is a tenured/tenure track faculty member selected by the faculty of a. department or program to oversee admission process for department or degree program.
Graduate Division Staff
The division staff is eager to guide you through the graduate admissions process.
Complete Your Cal State Apply Application
Complete four sections of the Cal State Apply application. 
1. Personal Information
2. Academic History
3. Supporting Information
4. Program Materials
You are ready to submit when the four quadrants show complete (green) and when the status on the program (in the Submit Application tab) has also turned green.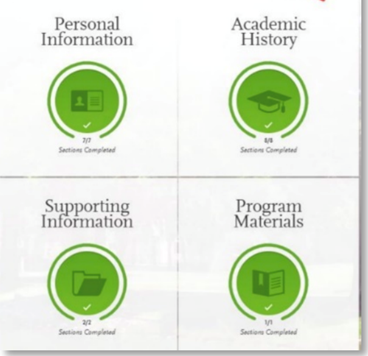 You are required to upload unofficial transcripts, and program materials such as personal statements, letters of recommendation, writing sample, resume, and test scores to the Program Materials section of Cal State Apply.
Upload Unofficial Transcripts to the Cal State Apply Application
Step 1: Prepare Transcripts
Before you upload any Unofficial Transcripts to your Cal State Apply application, ensure you have legible copies of transcripts from each college or university you have attended, including study abroad coursework and community college coursework, even if such coursework appears as transfer credit on your degree transcript. In progress coursework is acceptable, but an incomplete academic history will significantly delay the review of your application.
Most universities offer an online service for accessing unofficial transcripts, you may be able to log in to your former university's online portal and download or save your unofficial transcripts. It is usually available in a PDF or electronic format.  The Graduate Admissions team recommends that you contact the Registrar's Office of your former institution with questions on how to obtain your unofficial transcripts.
Step 2: Upload Transcripts to Cal State Apply
Return to your Cal State Apply application and log in.  Find and select the "Documents" tab within the Program Materials section of your application. Click "Upload" to start the upload process. Ensure that the file is successfully uploaded without errors, and save.
Ensure that you complete these steps accurately and in a timely manner to meet the application deadline.
And the Graduate Admission office may request official transcripts at any point during the application review process. If selected for admission, you will be required to submit official transcripts to the Division of Graduate Studies to secure your admission.
Program Materials
Your Statement of Purpose
To write a strong Statement of Purpose (SOP), review the website for your intended program of study for any department specific instructions or prompts, many departments provide detailed instructions.  Your Statement of Purpose is an important essay required by San Francisco State Graduate Programs.
Tips:
Introduce yourself to the intended graduate program and to highlight academic experiences that prepare you for the program (e.g., coursework, research, internships, presentations).
Discuss your motivation or passion for pursuing graduate study.
Explain your research interests, disciplinary subfields, and areas of specialization.
Outline your professional objectives and how the program aligns with your goals.
Demonstrate how your experiences and interests align with the program's resources and characteristics.
Mention specific faculty members you want to work with and how their interests match yours.
Discuss your personal background and how it shapes your decision to pursue a graduate degree.
Include educational, familial, cultural, economic, and social experiences that have influenced you.
Guidance for your Letters of Recommendation
Your letters of recommendation are an important component of your grad school application.  They highlight your academic work and potential for success.
Tips:
Ask individuals who know you well and can write specifically about your abilities and potential.
Ask Professors who taught you in upper-division courses or those familiar with your research.
Consider supervisors from your career if you've been out of college for some time.
Request letters well in advance (1-2 months) of application deadlines.
Provide documentation to help them write a stronger letter such as your CV or resume, unofficial transcript, list of awards, achievements, and published papers, or a copy of your statement of purpose.
Always thank recommenders for their time and effort.
A handwritten note or email expressing gratitude is appropriate.
Keep recommenders informed about your application process, especially if you're admitted.
Remember that professors were once in your position and understand the importance of recommendation letters.  Follow these tips to navigate the process of obtaining strong letters of recommendation for your grad school application.
After You Apply
You will receive an email confirming receipt of your Cal State Apply application from Graduate Studies, that includes your SF STATE ID within 1-2 days. 
Use your SF State Login and password to access SF State Gateway and navigate to your Student Center to check your application status.
Your SF State Login is your SF State ID nine-digit number at sfsu.edu, XXXXXXXXX@sfsu.edu.
You can create your SF State Password and start the process for setting up your two-factor authentication device by calling the ITS Service Desk: (415) 338-1420 or visit SF State Login.
Admission Decision Timeline
Timelines for admission decisions vary by graduate programs; however, the University and graduate faculty are eager to review your application.  If your application is considered incomplete after you submit, the review will be significantly delayed.  Be sure to submit a completed application that includes transcripts from every college or university attended and all required program materials.
If minimum university requirements are met, we will forward our review to your intended graduate program of study. The Graduate Program will review all program materials required on Cal State Apply and will notify Graduate Studies of their admission recommendations.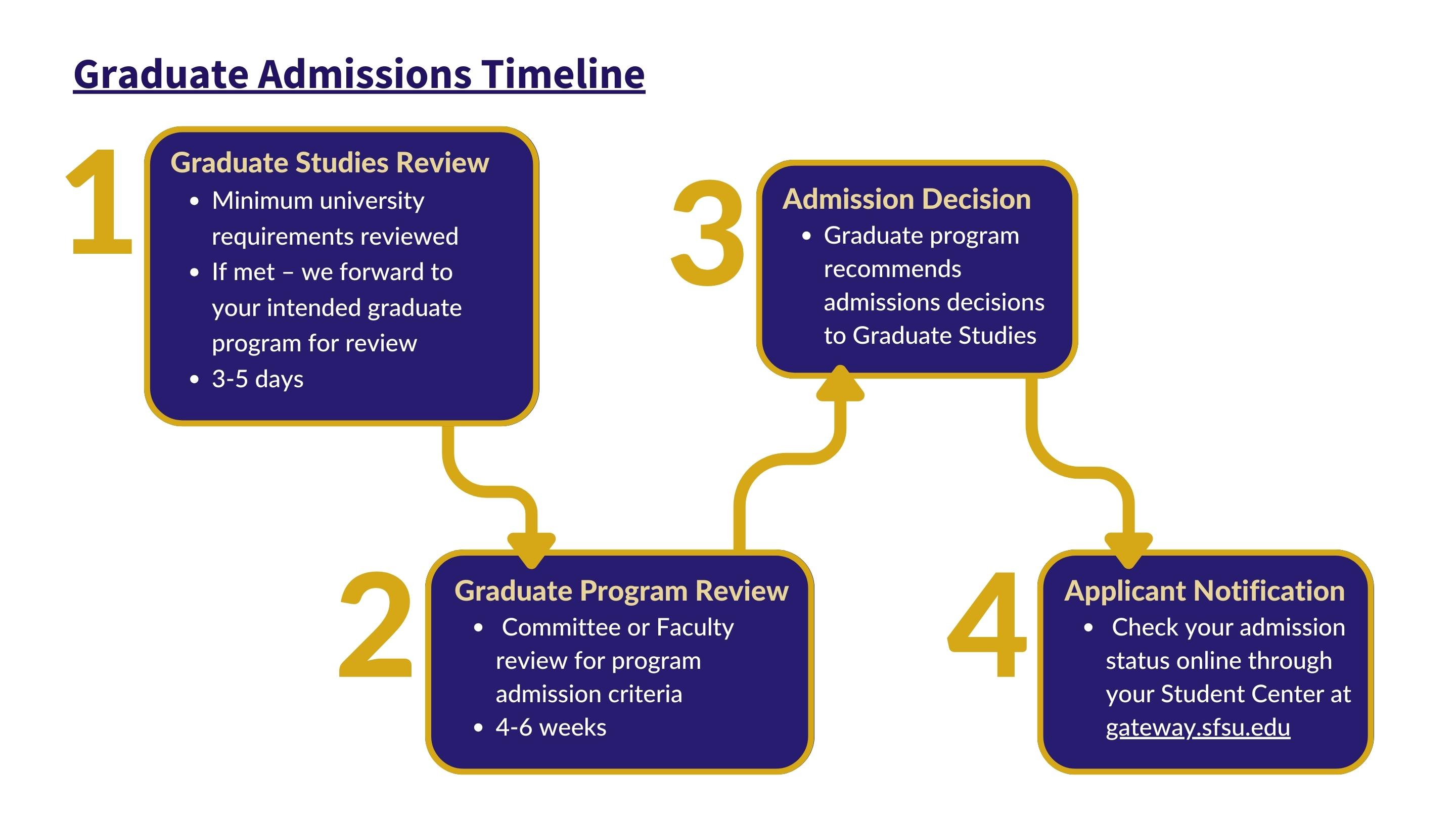 Continue to monitor your application status through gateway.sfsu.edu  using "Check Admission Status" in the "New Students" section of your Student Center.
Apply for FAFSA – you should apply early and by the FAFSA deadline regardless if you have not received notice of admission yet.
Apply for Scholarships – never too early to apply.
Apply for on-campus SF State Housing –  space is limited, the earlier the better!