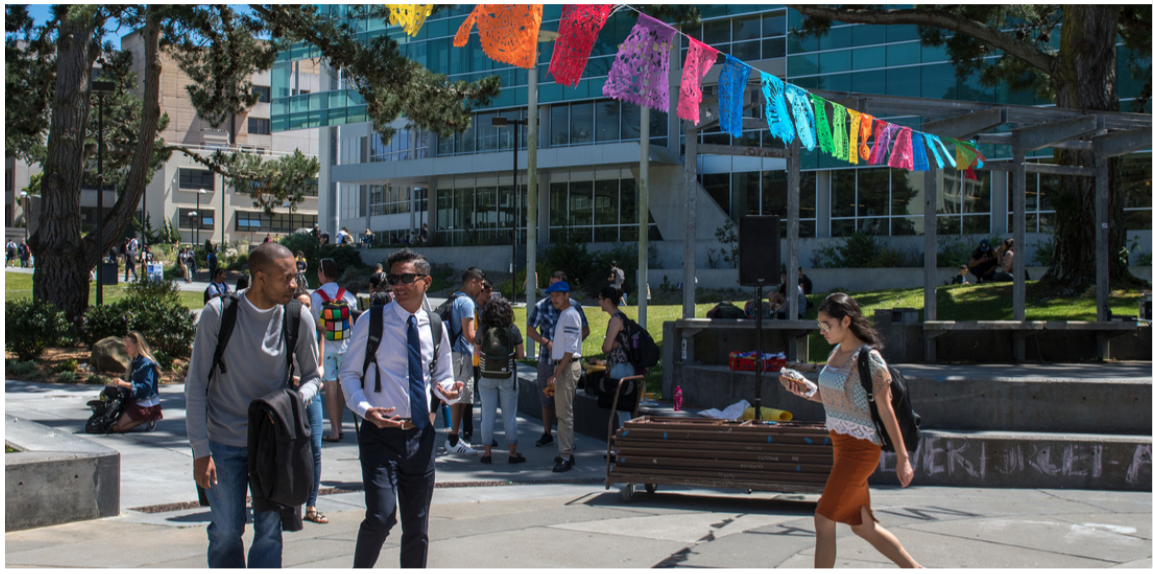 Congratulations!
You belong here. We are thrilled to welcome you to the Gator family! This checklist will guide you through the next steps to start your future at SF State.
 
NEW STUDENT WELCOME EVENTS
EVENT TITLE: DESCRIPTION
DATE & TIME
ZOOM LINK
The Bursar's Office: Join us in an information session followed by Q&A with the Bursa's Office. This will be an opportunity to learn about the Finance section of your Student Center, about academic finances within SFSU and an opportunity to ask question directly to the Bursar's Office.
Tuesday, January 18
2:00 p.m. – 3:00 p.m. (PST)
Register
Dean's Welcome & Q & A Session: Join the Dean and Associate Dean of the Division of Graduate Studies for an overview of graduate education at San Francisco State University. Prepare your most urgent questions for our Q & A sessions.
Tuesday, January 18
4:00 p.m. – 5:00 p.m. (PST)
Register
Office of International Programs – Orientation Sessions for International Students
Tuesday, January 18 – Wednesday, January 19 (times vary)
Visit their webpage for details here.
International Graduate Admissions Session (what to expect at SF State).
Wednesday, January 19
9:00 a.m. (PST)
Join
Basic Needs Services and Support - Accessing Basic Needs Support, Cal Fresh, & More: Searching for more support as you begin your graduate studies or move to the Bay Area? Join us in an exploration of the different basic needs assistance and living support benefits offered by the university and surrounding community.
Wednesday, January 19 10:00 a.m. – 10:30 a.m. (PST)
Join
SF State Scholars Welcome: Session for Undergraduate Scholars to review program policies and transition process.
Wednesday, January 19 11:00 a.m. – 12:00 p.m. (PST)
Register
Graduate Student Expectations: Policies and Procedures. As a graduate student, you are held to a higher academic standard. Join us to familiarize yourself with the academic policies, procedures, and resources available to graduate students.
Wednesday, January 19 12:00 p.m. – 1:00 p.m. (PST)
Register
Q&A with the Office of Student Financial Aid: Join this session to learn about financial aid options specific to post-baccalaureate students and get your questions answered.
Wednesday, January 19
5:00 p.m. – 6:OO p.m. (PST)
Register
Graduate Gator Points of Pride: New to SF State or the Bay Area? Join us on a virtual tour of our main campus and surrounding neighborhoods. Together we will explore the graduate student spaces on campus as well other fun spots nearby.
Thursday, January 20
12:00 p.m. – 12:30 p.m. (PST)
Join
End Registration Frustration: Learn how to navigate course registration as a newly admitted student. We will cover SF State registration basics, how to choose courses using the bulletin, making payments in the Student Center, & more!
Thursday, January 20
1:30 p.m. – 2:00 p.m. (PST)
Join
Graduate Student Life Q & A: Bring your questions and join us for a Q & A session with Summer and DeAndre, recent graduates from our graduate programs. They will share challenges and successes of graduate school life at San Francisco State University.
Thursday, January 20
2:00 p.m. – 3:00 p.m. (PST)
Join
Accept your admission offer now! Accepting your admission offer will secure your place in the program, obtain an SF State e-mail address, and receive enrollment appointments to enroll in courses.
Log into gateway.sfsu.edu. Under the LaunchPad, click on the Student Center button.
Once in your Student Center, go to the Admissions section and under the My Applications box, click Accept or Decline and ACCEPT YOUR OFFER!
After accepting their admission offer, students will be automatically assigned an SF State email account. We will send detailed instructions regarding your SF State email account to your personal email address once it has been created. Once enrolled, you will receive critical reminders regarding class registration for the upcoming semester and other important information at that account.
You will also receive instructions for setting up two-factor authentication which will be required to access SF State information resources and helps protect your student account.
For more support join one of our upcoming End Registration Frustration workshops.
At the start of every semester, we host a New Graduate Student Orientation for all of our new incoming students. This will be a general orientation, in which we host a variety of different workshops design with your success in mind.
Spring 2022 Orientation events are available in the table above
Our incoming F-1 students will want to join our Office of International Programs for their new student orientation event as well. (https://oip.sfsu.edu/new)
Your individual department may also be hosting an orientation session. This will be an event more specific to your studies, where you will get to meet members of your cohort/peers in your program and faculty.
It is very important that you pay your tuition fees on time. Please review the Bursars website and mark your calendar for important due dates. Note that payment plans are available, and international funds can be sent using Flywire.
The first disbursement of financial aid will be one week before school starts. Subsequent disbursements occur once a week throughout the semester, and you will only receive a disbursement if there is any remaining aid needed to disburse for that semester.
Learn more on our Funding Your Education page.
Official electronic transcripts must be addressed to SF State Graduate Studies and sent directly from your institution to graddocs@sfsu.edu. Transcripts submitted as attachments directly from the student will be considered unofficial and will not meet official transcript requirements.
Please send official, sealed transcripts to:
Division of Graduate Studies
1600 Holloway Avenue
Administration 254
San Francisco, CA 94132
U.S.A
Connect
I need help with...
General SF State Questions
Accessing my Student Center
Submitting Official Transcripts

I need help with...
Choosing my courses
Understanding my conditional admission
Other departmental inquiries

Resources