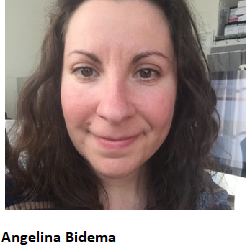 My name is Angelina and I'm a 3rd year MA/MFA student in Creative Writing who is also working on her Certification in the Teaching of Composition. I've done both my undergrad and graduate work here at SF State and am proud to be a part oåf this community. I know Graduate School can be challenging and you may have a lot of questions. I know I did! Working as a Graduate Student Ambassador gives me the opportunity to give back the help I was given as an incoming graduate student. I'm happy to help you in any way I can. Welcome and I look forward to meeting you!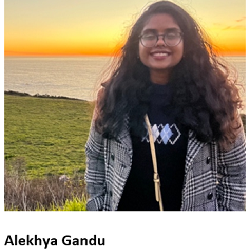 Hello! My name is Alekhya Gandu and I'm a second year Master's Student in the Computer Science program at SF State! Goooo Gators! My experience here at SF State has been the best so far! My interests include Web Development, IOS app development, and I do dabble a little in Game Development as well. I enjoy reading, listening to music, and hanging out with my friends in my free time. I wanted to be an ambassador because I would like to share my knowledge about being a grad student at SF State in hopes that some of my experiences may help you! :)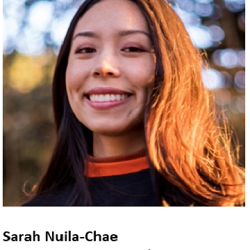 My name is Sara Nuila-Chae and I am in my third year here at SFSU. I graduated from the MA English Literature Department this Spring, and enjoyed SFSU so much that I will be returning for my MA in English Composition! In addition to being a student, I also co-chair for SFSU's Graduate Literature Association, and currently work at SFSU's Tutoring and Academic Support Center. You can find me most days tutoring, reading with my cat, Noodles, or playing video games in my spare time. If you have any questions about the English Department, specifically the Literature and Composition division, or, just want to talk books and video games with me, feel free to reach out!
Upcoming Ambassador Events
Wednesday, July 27
Time: 4 pm – 5 pm
Q & A with Alekhya
Zoom session: https://sfsu.zoom.us/j/86156197081?pwd=QTkwRGMyY2NQOWZiTFBReUdKVUR4QT09
Thursday, July 28
Time 11 am – 12 pm
Q & A with Angelina
Zoom link: https://sfsu.zoom.us/j/83200730617?pwd=eGRjR1Z4RzIrV0hJVW42eSt2bXE2Zz09
Thursday, July 28
Time: 3 pm – 4 pm
Graduate Ambassador Student Panel
Zoom link: https://sfsu.zoom.us/j/81757275572?pwd=STA0T05WS0N2Q0oyZCt6UjhyL0pOUT09
Friday, July 29
Time 11 am – 12 pm
Workshop: Making the Most of Graduate Life
Zoom Session Link: https://sfsu.zoom.us/j/87287396532?pwd=dUYxazBmV0IxamQ5NEord2hXVnNSZz09
Friday, July 29
Time: 3 pm – 4 pm
Q & A with Sara
Zoom link: https://sfsu.zoom.us/j/84558471192?pwd=TDEvWEhockI0S09ScWRPZWw3MWxPUT09
Monday, August 1
Time: 1:30 pm – 2:30 pm
Workshop: Navigating Grad School from an Emotional Perspective
Zoom link: https://sfsu.zoom.us/j/85815375832?pwd=RjZRM1VzbWRLQjQyeTBxNnlFSjIxdz09
Monday, August 1
Time: 3 pm – 4 pm
Workshop: Making the Most of Graduate Life
Zoom Session Link: https://sfsu.zoom.us/j/87287396532?pwd=dUYxazBmV0IxamQ5NEord2hXVnNSZz09
Tuesday, August 2
Time: 11 am – 12 pm
Workshop: Navigating Grad School Self-Care Tools and Campus Resources
Zoom Session: https://sfsu.zoom.us/j/81301486623?pwd=S0MrMU9UbTlLQ0U3NElIeWowZDQyZz09
Tuesday, August 2
Time: 4 pm – 5pm
Graduate Student Panel
Zoom: https://sfsu.zoom.us/j/81757275572?pwd=STA0T05WS0N2Q0oyZCt6UjhyL0pOUT09
Wednesday, August 3
Time 3 pm – 4 pm
Q & A with Sara
Zoom link: https://sfsu.zoom.us/j/84558471192?pwd=TDEvWEhockI0S09ScWRPZWw3MWxPUT09
Thursday, August 4
Time 1 pm – 2 pm
Q & A with Angelina
Zoom link: https://sfsu.zoom.us/j/83200730617?pwd=eGRjR1Z4RzIrV0hJVW42eSt2bXE2Zz09
Friday, August 5
Time: 1:30 pm – 2:30 pm
Q & A with Alekhya
Zoom session: https://sfsu.zoom.us/j/86156197081?pwd=QTkwRGMyY2NQOWZiTFBReUdKVUR4QT09
Monday, August 8
Time 4 pm – 5 pm
Workshop: Navigating Grad School from an Emotional Perspective
Zoom link: https://sfsu.zoom.us/j/85815375832?pwd=RjZRM1VzbWRLQjQyeTBxNnlFSjIxdz09
Tuesday, August 9
Time 11 am – 12 pm
Workshop: Navigating Grad School Self-Care Tools and Campus Resources
Zoom Session: https://sfsu.zoom.us/j/81301486623?pwd=S0MrMU9UbTlLQ0U3NElIeWowZDQyZz09
Tuesday, August 9
Time: 3 pm – 4 pm
Graduate Ambassador Student Panel
Zoom link: https://sfsu.zoom.us/j/81757275572?pwd=STA0T05WS0N2Q0oyZCt6UjhyL0pOUT09
Wednesday, August 10
Time: 4 pm – 5 pm
Q & A with Alekhya
Zoom session: https://sfsu.zoom.us/j/86156197081?pwd=QTkwRGMyY2NQOWZiTFBReUdKVUR4QT09
Thursday, August 11
Time: 11 am – 12 pm
Q & A with Angelina
Zoom link: https://sfsu.zoom.us/j/83200730617?pwd=eGRjR1Z4RzIrV0hJVW42eSt2bXE2Zz09
Thursday, August 11
Time: 4 pm – 5:30 pm
SFSU Main Campus Tour & Social Mixer
Friday, August 12
Time 11 am – 12 pm
Workshop: Making the Most of Graduate Life
Zoom Session Link: https://sfsu.zoom.us/j/87287396532?pwd=dUYxazBmV0IxamQ5NEord2hXVnNSZz09
Friday, August 12
Time: 3 pm – 4 pm
Q & A with Sara
Zoom link: https://sfsu.zoom.us/j/84558471192?pwd=TDEvWEhockI0S09ScWRPZWw3MWxPUT09