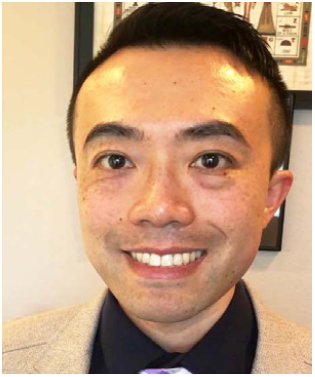 Daniel Hong Chin - M.S., Kinesiology - College of Health & Social Sciences
Daniel Hong Chin's story begins with the forced emigration of his parents from Mozambique after the civil war when his father's past military service placed them in danger. They landed in the Bay Area, where Chin grew up. He enlisted in the Air Force in 2003, and then after 11 years in the military set out on a new path in higher education towards a new career.
Chin entered San Francisco State with an interest in physical therapy but ultimately realized he was more interested in influencing policies that could help improve people's exercise habits on a broader scale. "I wanted to be able to effect change more on the community level," he explained. That led him to pursue research on fitness, informed by his time in the military. "I saw the impact of physical activity and how important it is to physical, mental, spiritual and emotional health," he said.
His graduate research focused on a community near and dear to his heart: veterans. Inspired by his own relationship with exercise as well as high rates of obesity in the veteran community, Chin studied the link between how veterans see their military identity and their exercise and eating habits. Next he plans to pursue a career in physical therapy or research, focusing on increasing physical activity levels in underserved populations to reduce health disparities and chronic disease risk.